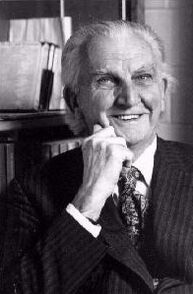 Professor Kenneth Ewart Boulding (1920-1993) was internationally known for his innovative and sensitive work in the field of economics, and indeed was elected as president of the American Economics Association (along with the presidency of five other major scholarly societies, including the American Association for the Advancement of Science). He taught at universities on three continents, authored more than thirty books and hundreds of articles, pamphlets and papers, and was awarded numerous honors for his work not only as an economist pushing the forefront of his profession, but also as a humanist, futures thinker and major activist in the field of peace and conflict resolution.
Kenneth Boulding was a profoundly democratic man, a Quaker (the Society of Friends), a loving and diligent work partner with his wife, the eminent Norwegian-born sociologist Elise Boulding, and both a worrier (about our ability to survive the challenges of the modern world) and an optimist (he decided to dedicate his life to doing something about it anyway). In the last two years of his life, he took to writing sonnets, 216 in all between 1981 and 1993.

For more information see his Wikipedia entry.